Help from Family for First Time Home Buyers
Your family could hold the key to your home.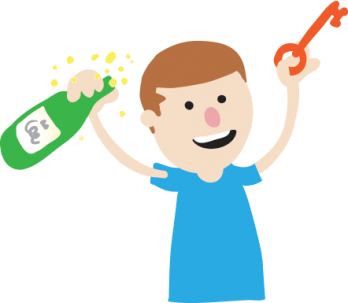 Most lenders are now offering an easier way for first-time home buyers to get on the property ladder. You can leverage off your family members' home equity to get to the required 20% deposit.
For some time now banks have required a 20% deposit from first-time buyers. However the deposit doesn't have to be completely savings based, which is usually a struggle for many young people with rising house prices.
Deposit funds can come from:
Savings
Gifts
KiwiSaver
First home buyer's subsidy
Equity from a family member's home.
When looking at loan applications banks will also consider the following:
Loan affordability
Level of existing consumer debt
Credit history
Age of parents or family member
Whether the property used is an owner occupied property or rental
Location of the property
The beauty of this initiative is that your family does not have to give 'cash' up front, they simply use the equity they have in their home to help you get a foot in the door. They are also not required to make mortgage repayments; that's up to the First Home Buyer.
So how does receiving help from family work?
If you want to buy a house that is on the market for $400,000, but you only have $20,000 saved, this house is currently out of reach for you.
However, if your family can help, the mortgage can be structured in such a way that you have two separate loans. Your standard home loan and then another loan that is shared with your family, using their equity. See picture below:

In the example above I have shown a way of paying the equity part of the loan off at an accelerated rate, in this case over 10 years. If you find that this is too expensive then the repayments can be reduced by paying the equity part over 30 years.
Are you exploring your home loan options as a first home buyer?
Our mortgage brokers are happy to answer your and your family member's questions about your home buying process. Although we have additional information for you throughout our website, we'd love to offer free information and advice regarding your first home purchase.
Contact Us >
Latest News

26 October 2023
Published by Scott Miller
Do Mortgage Brokers Charge Fees In NZ.
Introduction In the realm of mortgage brokers in New Zealand, it's important to note that while many brokers do charge for their services, there are exceptions.
Scott is wonderful to work with, which made the hole process so much easier and stress free. Highly qualified highly recommended. In there for the customers

Karla Botting - 06 December 2023

Scott was fantastic to work with, honest and hard working, went the extra mile on everything, explained the nitty gritty jargon into easy to understand. Got us a great deal on our mortgage, put us with the right people. All in all 6 stars, if your buying then definitely call Scott at AMS!!

Hamish Neilson - 06 December 2023

I used Scott at Advanced Mortgage Solutions for my first home purchase and am currently repurchasing a property through him again. Has been absolutely amazing and made the process extremely easy. Would recommend to anyone looking for a mortgage broker in Christchurch!

Stacy Kamo - 29 November 2023

Scott and the team at Advanced Mortgage Solutions are great! Very knowledgeable and they make the house buying process very simple and easy to understand. Cannot recommend them enough!

Scott Harris - 20 November 2023

Friendly and personalized service. Always happy to answer all my questions and love getting to see Gus when we meet in-person.

Lisa French - 20 November 2023
Get FREE personal mortgage and home loan advice